When we think of carnival season, our minds immediately turn to the riot of colour and sound that fills the streets of New Orleans at this time of year. There's no other city in the world that knows how to party quite like this one, and as such, it comes as no surprise that New Orleans is home to some of the most vibrant, most exciting, and most delicious cocktails ever to grace a glass.
Whether you're a fan of the tried-and-tested classics of Louisiana – inspired by centuries of colonial history and a wealth of flavours and timeless ingredients – or prefer something a little more cutting-edge, there's a Mardi Gras cocktail out there for you. Because we absolutely love this time of year, and never need an excuse to crack open our favourite bottles and get mixing, we've decided to put together five of the most tempting cocktails, each perfect for this season of fun and partying. Read on, and discover a whole new favourite to enjoy while breaking out your best street party moves!
The Sazerac
If there's a more fitting cocktail for Mardi Gras out there in the world, we haven't yet discovered it. Originally invented as a medicinal cure-all for pretty much everything, this cocktail hails from Antoine Peychaud's New Orleans apothecary way back in the 1800s. Delicious, and with a kick like a mule, it's a must-try for Mardi Gras 2019.
1 oz Absinthe (used as a rinse)
2 oz Rye Whisky
3 dashes Peychaud's Bitters
½ tsp of sugar or sugar syrup
Add the absinthe to a glass along with an ice cube. As the ice chills, it will slightly louche the absinthe, turning it a milky colour. Swill it well around the glass to coat the base and sides, before draining. Pour in the rest of the ingredients, shake well with plenty of ice, then pour into an Old Fashioned glass before garnishing with a lemon twist.
Maple Rye Sour
OK – so this cocktail uses two of the most stereotypically Canadian ingredients imaginable in the form of maple syrup and Rye whisky, but it actually originates in the legendary Clover Club of Brooklyn. Despite this, we reckon that its mixture of sweetness and spice fits perfectly with the flavour profile of New Orleans classics, and that's why we're including it on this list. Trust us – one sip of this classic cocktail, and you'll feel like you're dancing down Bourbon street!
2 oz quality Rye Whisky
½ oz fresh lemon juice
½ oz fresh orange juice
¼ oz maple syrup
¼ oz Luxardo Amaro Abano liqueur
Orange twist, for garnish
Combine all of the ingredients (not the garnish) in a cocktail shaker with plenty of ice, then shake vigorously until chilled. Pour into a Sours glass, and add the orange twist to garnish.
Blood Orange Bourbon
When it comes to Mardi Gras cocktails, there's something magical that happens when you combine quality Bourbon whisky, and something unctuous and fruity. In this respect, the Blood Orange Bourbon cocktail hits the right notes in perfect fashion, and results in a drink which is as luxurious as it is moreish. The citrus notes really bring forward the caramel tones of the whisky, and the finished product is like a party-ready version of the Whisky Sour you and your friends are going to adore!
4 fresh raspberries
1 ½ tbsp lime juice
1 ½ tbsp blood orange juice
1 ½ tbsp ginger syrup (see recipe below)
4 tbsp Bourbon
2 tbsp Club Soda
Ginger Syrup
1 cup water
1 cup sugar
2 inches of root ginger, peeled and sliced into thin discs
Muddle together the ginger syrup, lime juice, raspberries and blood orange juice in a standard cocktail shaker. Add the Bourbon, and give it all good stir to combine. Strain into a glass with lots of ice. Top with Club Soda, garnish with a couple more raspberries, and finish with a slice of freshly cut blood orange. Perfection!
Absinthe Frappe
Now you're talking. This very, very grown-up version of a frozen slushie is about as fitting as it comes when looking for a French-inspired cocktail for Mardi Gras in New Orleans. That deep anise hit of the absinthe is impossible to resist, and the muddled mint leaves make it the most refreshing drink on this list. Perfect for balmy nights dancing in the streets, this cocktail was invented at the historic Old Absinthe House back in 1874… so it's a New Orleans cocktail with a real pedigree!
1.5 oz Absinthe
0.5 oz Sugar Syrup
2 oz Soda Water
6 Mint Leaves
In the bottom of your cocktail shaker, muddle together the mint leaves and the sugar syrup. Add the ice and the Absinthe, then shake well. Strain into a rocks glass over crushed ice, top up with soda water, and garnish with a sprig of mint.
Bourbon Sweet Tea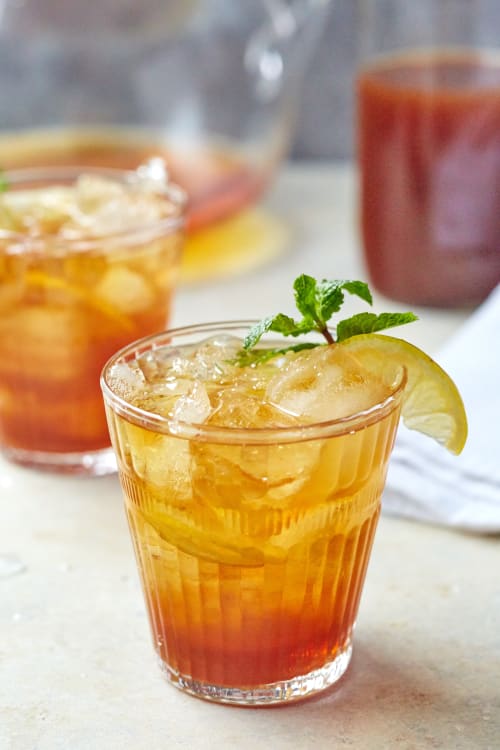 For those long, hot afternoons of dancing, drinking, and spending time with friends old and new, this sweet tea-based cocktail really does the job perfectly. Packed with all the charm of the American South, and boasting a real punch of quality Bourbon in every sip, it's a cocktail which takes a bit of time to prepare… but do so in large batches, and it will be absolutely worth all the effort!
1 cup of homemade sweet tea (see recipe below)
1 oz Bourbon
1 lemon wedge
Mint leaves to garnish
Sweet Tea Recipe
3 cups of boiling water
8 black tea bags
¾ cup of sugar
3 cups of cold water
10 mint leaves
First, prepare your tea. To do this, boil up 3 cups of water, add the tea bags and the mint leaves, and leave them to steep (simply cover the pot, and leave it for 15 minutes). While your tea is still nice and hot, add in the sugar until it has dissolved, then pour in the cold water, add a pitcher, and keep it in the fridge to chill for a couple of hours.
When you're ready to make the cocktail, add the tea, Bourbon, and a some lemon juice to a cocktail glass. Stir, top up with ice, and then garnish with lemon wedges and some mint leaves.