It's easy to think of Scotch as something imbued with all the glories of the past, and enriched with history, tradition, and the expertise of centuries. While this is doubtlessly true (and part of the reason why Scotch Single Malt remains the most distinctive and celebrated whisky style in the world) in many cases, we all too often forget that the whisky scene is Scotland is as inventive as it is traditional, and as dynamic as it is historic. Indeed, right now there are no less than thirty new whisky distilleries being constructed across the Scottish whisky regions… and that means plenty of fantastic spirits to look forward to, and something of a new golden age for Scotch fans to celebrate.
While we could write an entire series of blogs listing all the upcoming distilleries, their plans and visions for the future, and the kinds of whiskies they're set to release over the next few years, there is a small handful of distilleries we're particularly excited about. So, without further ado, let's take a closer look at the five new Scotch distilleries we can't wait to get our teeth into, and which we're confident are set to be future firm favourites. Cheers!
Port of Leith Distillery, Edinburgh
To say there's a major buzz surrounding the Port of Leith Distillery in Edinburgh would be one hell of an understatement. Not only is this set to be the first new distillery in the vibrant Scottish capital for over a century, it's completely smashing the system and breaking the mould when it comes to design, too. Those ever-innovative Scots have set this up as the country's first vertical distillery, with its impressive high-rise design set to be a major feature of the city's skyline by the time it opens in 2020.
It's not only the design of the distillery which goes against the grain, either. Founders Ian Stirling and Paddy Fletcher have teased fans with a number of unique and unusual releases over the last year or so (including the stunning Port of Leith Distillery Sherry, which is supposedly going to play a major role in their forthcoming whisky), and have suggested we prepare ourselves for uncommon yeasts, experimental fermentation techniques, eye-popping design features, and much, much more… We simply cannot wait!
Clutha, Glasgow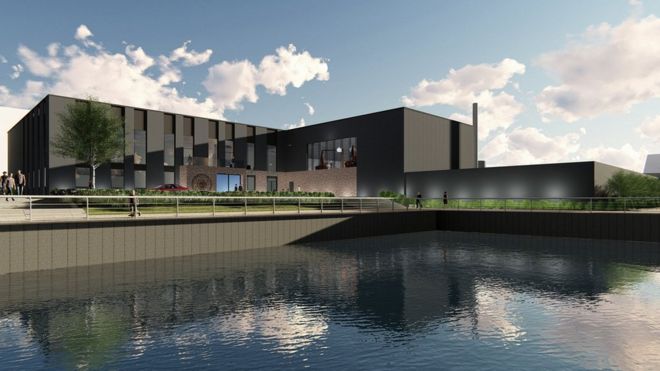 'Clutha' is the Gaelic word for the River Clyde, which runs into Glasgow's Pacific Quay and provides the stunning setting for this new distillery in the Lowlands region. In fact, Clutha isn't just a distillery – it's set to be a buzzing new hub for Glasgow's whisky scene, and provide space for a bottling complex, a bar, a bistro, a head office, and a whisky laboratory… all of which will undoubtedly make it a bucket list destination for Scotch fans of the future!
The family-owned business behind Clutha are determined to produce whiskies which stand apart from the typical Lowlands bottles, and which inject plenty of modern character thanks to the use of Sherry casks from Jerez. Cara Laing, one of the co-founders of Clutha, has promised that the new distillery will be 'eye opening yet down-to-earth', which sounds exactly like the kind of thing we can get excited about.
Cabrach, Moray
Great things come about when heritage meets modernity, and when experimentation sits side by side with tradition. That seems to be the ethos behind the forthcoming Cabrach distillery in Moray, which is causing some major ripples around the Scotch scene prior to its official launch later next year.
While it is using brand new stills and a broad range of state-of-the-art equipment, the 150,000 yearly bottles Cabrach is set to release are said to have been made with historical approaches, utilising 19th century methods and aiming for a Scottish prohibition-era vibe. The first bottles are due to be released to the wider world in 2024, and many are claiming that Cabrach is going to be very much the next big thing in Single Malt. Only time will tell!
Ardgowan, Inverkip
Situated just thirty miles outside the bustling city of Glasgow, Ardgowan is a new Lowlands distillery which is making fantastic use of the stunning countryside it is nestled in. Tapping into Lowlands springs, and offering visitors stunning vistas of the more accessible side of the Scottish wilderness, it's destined to become a key stopping point on many whisky tours of the next decade.
Ardgowan Distillery is, in actual fact, 'Ardgowan version 2.0' – the original version of this distillery was founded in the 1890s, before being tragically bombed during the second World War. The new owners are keen to reclaim as much of the site's historic charm as possible, and will be relying on old-fashioned and authentic whisky making techniques in order to produce drams of stunning quality and distinction. The distillery is currently barrelling three different Single Malts – a heavily peated, a lightly peated, and an unpeated version – which will be available to buy as four, five, and seven year releases. The Ardgowan are no strangers to grandiose publicity stunts, either (their 2018 teaser release, The Expedition, travelled from pole to pole before being released to the public), so expect some big news from this beautiful distillery soon!
Ardross, Inverness
If you're on the lookout for a modern yet utterly beguiling distillery to visit in Scotland in the coming years, it's highly likely that the all-new Ardross is going to be high on your list of places to stop for a drink or two. Why? Because this incredible new distillery is set amid 50 acres of prime Inverness countryside, and the team are currently working on an immersive whisky tour experience which is said to be an absolute game changer for the whisky tour industry.
The original 19th century farm buildings have been converted into still houses, tun rooms, mash houses, visitor centres, tasting rooms, offices… the list goes on and on, and the site is already looking absolutely beautiful. While Ardross are yet to unveil any of their whiskies, they have already launched a signature gin which was incredibly well received earlier this year. The future's certainly looking bright in Inverness!
That's it – five new whisky distilleries which are set to change the face of the Scotch industry, and which we're itching to get down to and explore in person!