Out with the old, and in with the new: that's what New Year's Eve is all about, and it's hard to think of a better reason to throw a party, leave the past behind us, and start looking to the future. It's the one night of the year when anything seems possible, when we can afford to wallow in some real luxury and treat ourselves to something special… and it's for this very reason that Champagne sales spike massively when December the 31st rolls around.
Everyone's favourite French sparkling wine has been a mainstay of New Year's Eve for well over a century, and has been thoroughly associated with celebrations of all kinds for even longer. There's something about those refined bubbles, that biting acidity and plush fruit flavours that makes Champagne utterly perfect for revelry, and nobody can fail to smile when popping those mushroom-shaped corks, feeling like a rock star. No matter how hard the Prosecco, Cava, Cremant, and other sparkling wine scenes try (and we really do love many other sparkling wine styles), they – as yet – haven't managed to topple Champagne's crown as the sparkling wine to enjoy as the new year is welcome in.
But which of the bottles you're likely to come across in wine stores and online are your best bet for bubbly delight this NYE? We've scoured the vintage reports, checked out the reviews, and done more than our fair share of tastings to pick out the very best of the bunch. Find one that'll take your celebrations to the next level, and have a happy new year!
Louis Roederer, Cristal Vinothèque 1996
This October saw the release of the Cristal Vinothèque Champagne from Louis Roederer, the grapes for which were harvested way back in 1996. If you're looking to splash out and impress this NYE with a truly top quality, rare, and highly sought-after Champagne, you'd do well to opt for this particular bottle. It's far from cheap… but my goodness, it's incredible.
[NTH2019]
1996 was considered one of the finest vintages for Champagne in living history. As is the Cristal tradition, several bottles made from the grapes of this label were squirreled away 22 years ago in the chalky caves beneath the city of Reims, to preserve the qualities of this particular year. The resulting wine is one which offers a remarkably rounded character, with superb concentration and clarity, and one which any NYE party would be more than lucky to see opened.
Dom Perignon, 2008
This particular Champagne house makes a huge deal out of the fact that it is very much the original, being the ancestral home of the very first Champagne wines made in the region. While the 2009 vintage which is currently doing the rounds has an awful lot going for it, true Champagne fans are being encouraged to spend a few dollars more and pick up the 2008, considered the best vintage year of the 21st century so far.
What to expect? Beautiful orchard fruit flavours, the house's signature 'biscuity' notes, and a stunning depth from the ripe Pinot Noir harvested during what was described as a 'miracle season'. Definitely one which slips down very comfortably indeed!
Krug, Clos du Mesnil, 2004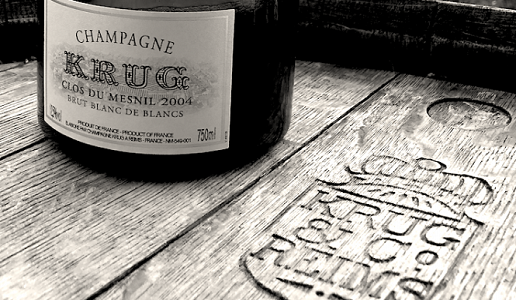 We often hear people complain that they struggle to tell the difference between a mid-priced bottle of Champagne, and those which sit comfortably in the three-figure echelons at the upper end of the market. When we hear this, we usually point them in the direction of a bottle of Krug – a Champagne label which very, very rarely disappoints, and truly lives up to the mantra 'you get what you pay for'.
The Clos du Mesnil 2004 release is a fantastic example of what this luxurious Champagne house does best, and from the first sip of this singularly delicious Champagne, you'll be taken aback by the crispness and vivaciousness of the classic Chardonnay and Pinot Noir blend. A lot of this comes down to the concept of terroir – this is a wine made from grapes grown in the superlative Le Mesnil-sur-Oger vineyards, the envy of the entire region. After 14 years aging in the Krug cellars, there's a depth and complexity to this bottle of bubbles which lesser houses could never wish to achieve, and when it comes to celebratory drinks, this is one which won't be forgotten.
Philipponnat, Les Cintres Extra Brut, 2006
Like your Champagnes to be bone-dry, with almost no residual sugar whatsoever? If you're on the lookout for such a Champagne (and if you're serving your fizz with some fancy hors-d'oeuvres, then you really should be…) then this gorgeous number from the ever-fascinating Philipponnat will definitely hit all the right notes.
Made from an unusual blend which comprises of 70% Pinot Noir, this is a highly expressive Champagne which communicates much of its sun-baked Clos des Goisses vineyards. The result is one which has a deep fruitiness (notes of sharp raspberry and redcurrant abound) despite that wonderful dryness, and which also has an intriguing smokiness to it, too. If you're serving scallops or lobster with your New Year's dinner, this one comes massively recommended. Utterly delicious!
Andre Jacquart, Experience Blanc des Blancs
It's been really exciting to see the main 'alternative' Champagnes – that is, Blanc des Blancs and Blanc des Noirs – become more and more popular in recent years, not least because they're utterly delicious variations on the norm, and truly show off the vigneron's skill. This beautiful Blanc des Blancs (a Champagne made from 100% Chardonnay grapes, with no blending of the typical black grapes) really lives up to its luxurious reputation. That fullness and richness we associated with high quality Champagne Chardonnay really comes through on the nose and the palate, and offers a fuller-bodied Champagne which is as silky as it is seductive.
Ideal for more intimate gatherings and romantic NYE celebrations, the Andre Jacquart is a more artisan-led affair than many of the big-name bottles on this list… and for our money, that's by no means a bad thing.
There you have it – five beautiful Champagnes worth treating yourself with this New Year's Eve! Perfect for food pairing, unbeatable for celebrating with, and guaranteed to elicit gasps of delight, they're the ideal wines to bring in a new year of luck, happiness, and prosperity. Cheers!